This car was seen by Elvis Presley parked outside a Memphis car dealer's showroom on 28th December, 1967 and purchased by him for his own personal use. He reputedly used the car for some thirteen months (this being around the time of Lisa Marie's birth on 1st February, 1968) until one occasion when it wouldn't start, at which point he shot it in the right front fender. A short time afterwards, Elvis gave the Cadillac to Priscilla Presley's stepfather as a gift. It saw little use until it was offered for sale some years ago and it was purchased by Johnny Mac of Adelaide who imported it to Australia via Jimmy Velvet of Hawaii. He used it for promotional purposes until it was purchased by four West Australian business men in 1987 who had it on display in Fremantle near Perth, as part of an Elvis Presley Exhibition, together with records and other memorabilia. The photos are from that display.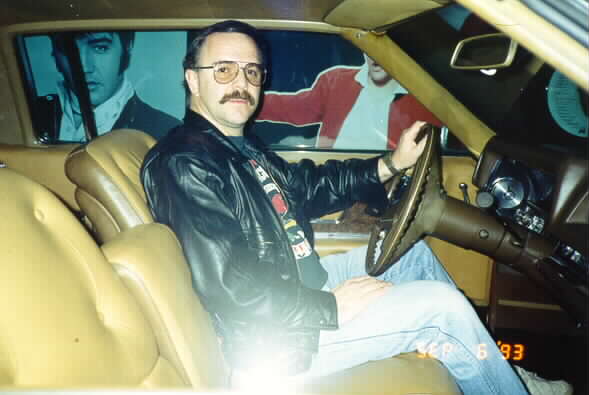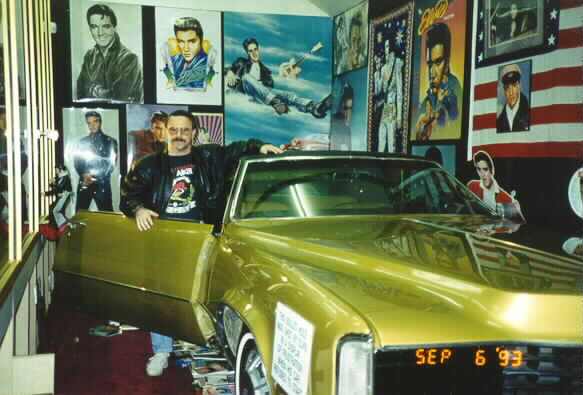 (c) 1994 Allan Levinson. Fremantle, Western Australia
In 1994 the whole exhibition was sold to the Memphis Rock Cafe in Cairns, Queensland where the car was on display in an air conditioned glass enclosure until late 1998. It still has the bullet hole!


On 8th March 1999 this car was auctioned in Melbourne, Australia by Shannons, but was passed in at $90,000 Australian. In December 1999 this car went to auction on eBay with a reserve of US$125,000 however there were no bids. It then went back to the USA and resided on a black and white checked tile floor at the back of a store called Ace Sports and Collectibles at Oak Park Mall in Kansas City. I heard that it was to be auctioned in Boca Roton Florida on January 1st, 2009.


In 2013, this Cadillac was auctioned on eBay.com but received no bids and did not sell (see auction). On March 2014, this Cadillac was offered for sale for $229,900 by Daniel Schmitt & Co. of St Louis, Missouri. The price was reduced in February 2015 to $195,000.