In January 1976 whilst skiing in Vail, Colorado, Elvis went on another car buying spree. At 2am on January 14th he purchased from Jack Kent Cadillac Inc of Denver, Cadillacs for Det. Ronald Pietrafeso, Det. Jerry Kennedy, Bob Cantwell, Linda Thompson (Elvis's girlfriend), Sonny West's wife (a 1976 Cadillac Seville, white with baby blue interior and baby blue top), Red West's girlfriend, Joe Esposito's girlfriend (Shirley Dieu) and Colonel Parker.

This green Eldorado serial number 6L47S6Q188385 was one of the above-mentioned vehicles, purchased for Shirley Dieu. Shirley explains: "Elvis tried to get me a white Eldorado but they could not locate one, so he told them to give me another one until they got a white one in. They (the dealership) called me about three months later and asked me if I would accept a baby blue one. I said yes and they actually drove it out to me. I was living with Joe Esposito at the time. The night, actually morning that he gave me the car will always be remembered. I still have the set of gold keys that he gave me with the car as well as the gold emblem that I never put on the hood. I hope that the car is in a museum or somewhere so that it is not rotting away. Let me know where you find it if you do. Thanks." On May 19th 1977 Jack Kent Cadillac Inc resold the green car to Mr. Mohler of Denver together with a letter of verification and a copy of Elvis's check for $44,349.98 which Elvis signed upon purchasing this car along with the other two. On the side of the check are the names Linda Thompson, Shirley Dieu and Ron Pietrafeso. See copy of this document here. After Elvis passed away later in 1977, Mr Mohler sold the car at auction and received between $16,000 and $17,000 for it. For many years it was owned by Howard Brandon of Murray, Kentucky and was in the George Jones Car Museum in Nashville.
In late 1997, it was for sale at the museum for $14,500 and advertised early in 1998 in Hemmings magazine. The car was auctioned again at Nashville on December 12, 1998, together with a copy of the check. Also with the car was an Elvis Presley display and an original manuscript from the movie "Jailhouse Rock" dated 1957 with markings on specific pages made by the King himself. The sale price was $28,500. Anybody know where the car is now? Please email me.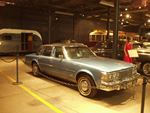 One of the cars that Elvis gave away while in Vail, Colorado was to a local anchorman on NBC, Don Kinney. According to 200 Cadillacs DVD, Don Kinney reveals how he came about of receiving a Cadillac from Elvis. Don explains that "My co-anchor at the end of the broadcast, in a little good bye that we would do each day, she said 'I'm going to go up to Aspen this weekend, and I hope Elvis bumps to me'. I turned and looked at her and I said 'What an inappropriate thing to say.". Apparently Elvis loved the comment so much that contacted Don to give him a Cadillac. This vehicle, with plate number SN 3726 is on display in the Forney Museum of Transportation in Denver.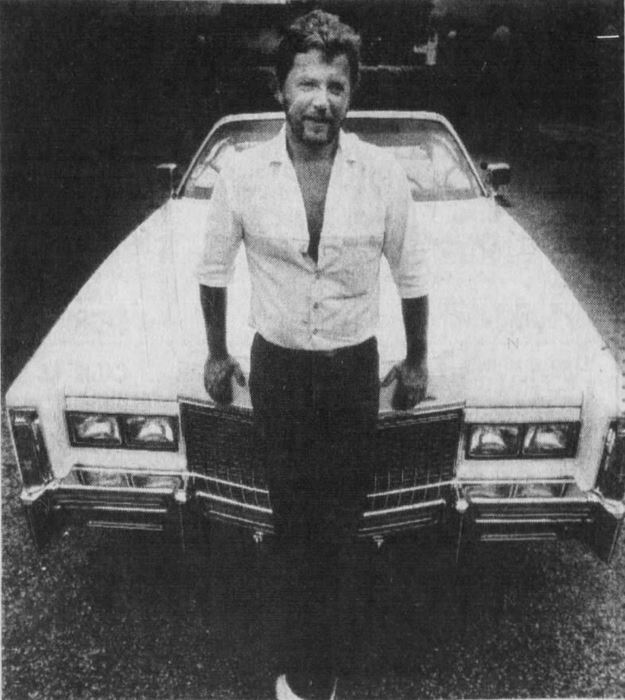 According to the Palm Beach Post, Elvis gave away on April 7, 1976 Cadillac Eldorado convertible (VIN 6L6756Q235266) to road manager and friend Joe Esposito. This information matches with the recent comments by Shirley Dieu about two Cadillacs she and Joe already had when Elvis offered to buy a tan Cadillac. Joe's car was auctioned in 1981 to a Clearwater anesthesioligist. In 1986, the car was sold to Morten Bogfjelmo, and the story was published in the The Palm Beach Post on January 8, 1986. Read Article


Update on the 1977 baby blue Eldorado that replaced the green one Shirley Dieu got in Denver in January 1976. Here is the story, as told by Shirley Dieu and Joe Esposito to Dianne Rojeski of King Productions in Fresno, CA in a video she filmed with them in Las Vegas.
Shirley took the 1976 green Eldorado from the dealership as a "placeholder" since she really wanted a white one. The dealership contacted her in California and said they had not been able to locate a white one, but did have a beautiful baby blue 1977 they could get her. Joe called Elvis to see if that trade was okay and Elvis said if Shirley wanted the blue one, to get it for her and have them bill him for the difference. Elvis paid the difference (which was around $1,300) on April 26, 1977. That would make this the last Cadillac Elvis bought in his lifetime!.
Joe and Shirley also recounted Elvis visiting them and being excited to see Shirley with the blue Eldorado since he knew that was more what she really wanted. They also drove around with Elvis in the front seat, and while they were heading down Santa Monica Blvd., Elvis saw a tan Eldorado parked at a gas station with a "For Sale" sign and Elvis asked Joe if he wanted it. Joe and Shirley laughed and told Elvis they didn't need it because Joe already had a white, convertible Eldorado Elvis had given him and with the tandem parking at their place, two Eldorados were plenty!
This Cadillac Eldorado is now owned by Jeremy Pearce and it is part of his personal Elvis collection that he shares with fans through his company, King Productions. See Jeremy Pearce's website with photos of and the story behind this car.

See the Transfer of Title that Joe Esposito submitted registering the baby blue Eldorado to the Graceland address. It shows the difference between the cost of the blue one and the trade in value of the green one which is the amount Elvis paid and the date of purchase as 4/26/77.

Shirley was re-united with this car in October 2010. See the picture of her with Jeremy in his Elvis attire in it.